Oloruntimilehin George MD/CEO.Appointed March 2020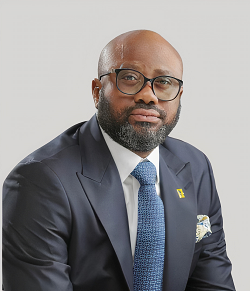 In March 2020, the Group appointed strong deals originator Oloruntimilehin George, Managing Director and Chief Executive Officer of First Pension Custodian Nigeria Limited. He worked at First Bank of Nigeria Limited as the Group Head, Financial Institutions and Multilaterals between February 2018 and February 2020. Prior to this, he was at Standard Chartered Bank for almost 8 years and other key institutions where he championed the execution of a wide range of transactions.
Oloruntimilehin, a seasoned executive, is a Business Administration graduate with an MBA in Strategic Management and an MBA Essentials from the London School of Economics & Political Science. He completed the Advanced Management Programme at the prestigious Lagos Business School (AMP 20, 2008), Oxford Executive Leadership Programme at the University of Oxford, Said Business School, Diploma in Corporate Governance, Corporate Governance Institute, and the Glasgow Caledonian University.
A member of the Institute of Directors (IOD) and an Honorary Member, Chartered Institute of Bankers of Nigeria. He is a serial collaborator evidenced by a track record of managing and delivering superlative performance, he is passionate about economic empowerment, social services and is an avid music aficionado.