Stella Ojekwe-Onyejeli(Non-Executive Director)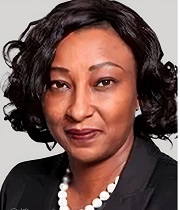 Ojekwe-Onyejeli has 30 years comprehensive experience leading diverse teams developing & growing businesses and delivering value within dynamic high-pressure environments. Her competencies include assurance, financial management, advisory, risk management, fund management, infrastructure project development, operations and general management cutting across professional services, financial services and the asset management sectors. She is currently an Independent Non-Executive Director on the Board of Rand Merchant Bank Nigeria Limited and Saro Africa Group, Non-Executive Director on the Boards of Infrastructure Credit Guarantee Company Limited (InfraCredit) and the Nigeria Solidarity Support Fund (NSSF), a member of the Investment Committee of Facility for Energy Inclusion managed by Lion's Head Global Partners and a member of the Board of Trustees of the Risk Management Association of Nigeria (RIMAN).

She served creditably for nine years as Executive Director with the Nigeria Sovereign Investment Authority (NSIA) until the end of her tenure in October 2021. In addition to being appointed Executive Director and serving on the Board of the Authority, she was also initially the Chief Risk Officer before handling an expanded role as Chief Operating Officer of the Authority. During her nine-year stint, Stella worked closely with the Chief Investment Officer in selecting and allocating funds to asset managers in various asset classes globally, including Private Equity Fund Managers. As one of three Executive Committee members, she participated in all investment approval decisions and represented NSIA's interest on the Limited Partner Advisory Committees and Boards of various Investee Companies.

Before the NSIA she had a distinguished tenure as Director and Head of Operational Risk and Control at Barclays based in Dubai, where she covered 15 countries spanning Africa, Middle East and Asia. Prior to this, she was a Vice President and Head of Quality Assurance, Africa, at Citibank, South Africa, with direct oversight of the enterprise risk and control environment in 14 countries across Africa. Hitherto, she spent over a decade at professional services firms Arthur Anderson and KPMG in Nigeria and South Africa, providing financial and transaction advisory as well as business assurance services.

Mrs. Ojekwe-Onyejeli is a qualified Chartered Financial and Tax Accountant as well as a scholar of the Federal Government of Nigeria and Institute of Chartered Accountants of Nigeria prize winner. She holds a first degree in Chemistry from the University of Lagos, a master's degree in Business Administration obtained from Cranfield School of Management, United Kingdom, she is a member of the Oxford Business & Wharton Executive Education Alumni and is also a Fellow of the Institute of Chartered Accountants of Nigeria. She also recently completed the Insead International Directors Programme in November 2021.